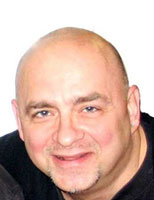 Three time Grammy nominee to be inducted
into the Buffalo Music Hall of Fame.
"Tadj" Szymczak of West Seneca will be among the 2012 inductees into the Buffalo Music Hall of Fame this October.
When the Beatles appeared on the Ed Sullivan Show, Tadj thought being a musician would be a great way to meet girls.
After almost 45 years in the music business, bass player, vocalist, writer, promoter, equipment manager, booking agent, art director, publicist, accountant, and producer, are just some of the hats Tadj Szymczak wears in being a musician.

Staring with forming neighborhood garage bands in south Cheektowaga and purchasing his first amp on credit from Art Kubera, Tadj Szymczak's professional music career started 1969-playing weekly at CYO and High School dances from Wellsville to Wilson, through bookings from Connie Stepawany's agency Great Sounds in Music.
He took to the road In the early 70's gigging 6 to 7 nights a week with the Gene Ferrari Show opening for stars such as David Brenner and dinning with Engelbert Humperdinck.
In 1975 Tadj signed with Capitol records Canadian band, Edward Bear, supporting their Billboard hit, "Last Song" throughout most of Canada.

He returned to Buffalo in 1977 to marry high school sweetheart and continued playing in local lounge bands and a rock band which for a short time became a house band at McVans' including a performance with the Amherst Symphony Orchestra conducted by Dr. Joseph Wincence
In the late 70's Tadj began performing with The New York Transfer.one of WNYs most prolific high society, all occasion band and also began working at Edwin's Music Store as an equipment tech, retail sales and bass and guitar instruction.

It was also in the late 70's he persuaded friend Keith Gregor, to develop the concept of a multiple rehearsal facility which became known as the Music Mall
Soon a collaboration with Mike Mazur co-writing parts of his the Blue Collar City record and then band, which had 2 songs on both 97 rock "Buffalo Rocks" and 103 WPHD "Home Grown Vol. 3" albums.
During this time he worked with the rhythm section of the Alexander's HS Jazz ensemble.
In the mid 1980's Tadj was a founding member of the classic rock bands Phil & the Spectors and the New York Rockets.

Around 1986 he was asked to joined the club group Joyryde and received 3 Top 40 Bass Player Awards including Best Bass player in 1987
After a brief time with all occasion groups KB Express & Live Wire, Tadj in 1996, put playing in bands on hiatus.

That ended in 2001 when asked to be a member of Jerry Darlak & The Buffalo Touch to play locally and perform at music festivals through the United States.
In 2003 Tadj guided the Buffalo Touch towards the first of their three Grammy nominations with and along the band, has received two proclamations from Erie County legislators and a Citizens of the Year award.
Besides raising a family of two children Karen & Steven, with his wife of 35 years Marcia, the last 11 years has been spent on the committee of Owl Family picnic charity fund raiser which garnishes thousands of dollars for groups like Helping Hands, Mercy Flight, Camp Good Days and Saint Adalbert's Wellness Center.

During the holiday season he donates time to perform Kolendy, Polish Christmas carols for the public, shut-in's and senior centers through western New York.
Along with owning a successful Sound System & Karaoke Show company, Tadj occasionally fills in with other acts such as the Diva Show Band and Live Wire.
He also continues to record and performing locally and nationally with the Buffalo Touch, Tadj embraces the challenge of introducing a Polka band to non-ethnic venues such as Nietzsche's, the Lafayette Tap Room, Sportsmen's Tavern, The Taste of Buffalo and the River Grill.

The formal Induction Gala for the Buffalo Music Hall of Fame will be held Thursday, October 4th, 2012 at the Tralf Music Hall in the Buffalo Theater District.
For additional information contact:
Tadj Szymczak
(716) 656.970 Cell: (716) 998.9708
email:symfam80@msn.com