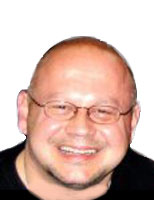 Ricky joined the Touch in 2006 after a temporary hiatus from playing which only last a few short months. He has been playing drums in various bands since he was only 12 years old. Living in the suburbs of Buffalo, his mother would drive him to halls around Buffalo letting him play with bands while she patiently waited for him. His parents' love of the music and promotion of their culture was instrumental in Ricky becoming an early musician in a polka band.
Prior to joining the Touch, Ricky has played with such bands as Honky Hoppers, Steel City Brass, Lil' Wally, Mix & Match and many other Buffalo-based bands. Through playing in these bands, he has been fortunate enough to travel to numerous polka festivals and make many life-long friends.
Ricky who was originally born in Torun, Poland enjoys being a part of the close-knit Polish community in Buffalo. His fluency in Polish gives him the fortunate opportunity to communicate and assist many new Polish families coming to Buffalo to make their new "home". He is active and promotes Polish cultural events throughout Buffalo.
When he is not traveling as a sales representative for work, Ricky resides in Cheektowaga with his wife Jennifer and daughter Cara. Their daughter keeps them extremely busy with school activities as well as dance competition. Ricky and Jennifer also enjoy theater, live concerts, traveling, and relaxing with friends in their spare time.
Ricky has always enjoyed entertaining crowds with his quick wit and sense of humor. He is proud to be the newest member of the Touch and looks forward to seeing lots of his polka friends very soon.