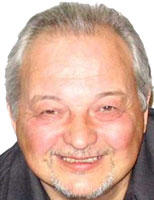 Ken is a lead vocalist, trumpet, and M.C. for the group and is an original member of the TOUCH joining in October of 1995. Being a multi-talented musician, he plays Trumpet, Trombone, Concertina, Accordion, Keyboard, Drums and is the featured vocalist for the "Touch". Since the 1960's--playing with the Buffalo Hi-Notes and then organizing the Goral Boys-- Ken has carried the nickname "Maly Lush," because of the similarity between his voice and the late renowned Marion Lush.
Prior to joining the Touch, Ken was the leader of Western New York's popular Pop band "New York Transfer" along with Tadj, Steve Michaels, John Hill, Dave Kolata, Jim Edwin, Artie Lutz, Bill Bushen, and Mitch Gawrys playing at most of the finest lounges, weddings, parties, and banquets in WNY for over 30 years.
Ken is a retired Architect for Erie County in New York. Other interests for Ken are his family-- wife, Carolyn; loving daughter and son-in-law Matt & Julieann Zdyb and Grand daughter Alexandria Thea; and two sons-- Nick and Ken Jr. Nick proudly contributed vocally to the song "C'Mon Back" on the "Touch This" album. Ken Jr. has been traveling with the group as a record salesman, driver and "Jr. likes to Party!"
Like the rest of the band, we are avid Buffalo Bills fans, Ken is a true fan of the Buffalo NHL Hockey team, the Sabres. Ken and Tadj put together a Sabres Polka Single in 2006, "Let's GO Sabres" Let's get the Stanley Cup (Stasui's Cup) the Play was tremendous and we're looking forward to the 2006-2007 season with a new version to follow!
Golf and Traveling are some of Ken's hobbies.
Looking forward to seeing and entertaining Polka fans around the Country!