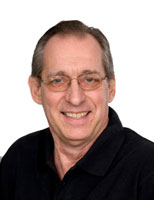 Jerry M. Darlak has devoted his whole life to the promotion of polka music. In his thirty-seven years as a working musician, he has performed and recorded with the nation's most prestigious polka orchestras. Today he continues this tradition with his own band and work as a promoter.
All too often, musicians like Jerry Darlak are overlooked for honors that are bestowed upon the industry's most identifiable names. However, Jerry has been much more than a professional sideman: for over thirty years his sole occupation was that of a polka musician.
Jerry Darlak was born in Chicago on September 22, 1946. He began his musical career behind a drum set a the age of 7. By age 12, he joined his first polka band. Within two years, at the age of 14, he was playing polka music three nights a week with his own band, The Lucky Stars.
Inspired by the great polka legend Li'l Wally Jagiello, Jerry took interest in the concertina and began lessons on that instrument at age 11.
In 1962, at the age of 16, Jerry joined Li'l Richard Towalski's band as a concertina player. He spent over a year and a half with Chicago's "Polka General" learning the ins and outs of the Windy City's polka circuit.
Shortly after, at the famous Caldwell Woods on Chicago's North Side, he was introduced to the international polka star, Marion Lush. Learning that Lush's Musical Stars would soon be in need of a full-time drummer, Jerry asked Lush for an audition. Impressed with both the talent and enthusiasm that Jerry had to offer, Lush chose the high school junior to be the back beat of the Musical Stars.
Jerry played drums with Lush's band until 1965, when he was drafted into the U.S. Army. While stationed at Fort Hood, Texas, he flew back to Chicago every weekend to perform with the Lush orchestra. He also played drums with the 5th Army Band, which was assigned to Fort Hood. He soon received orders that he would be stationed in Germany. This, however, would not keep him away from his beloved polka music: with his duffel bag and mess kit came his concertina.
Now a member of the 7th U.S. Army, he auditioned for drummer with that division's band. He won the position and performed throughout Germany and parts of Europe. However, when it was learned that he was a full-time polka musician-and had brought his concertina with him-he soon was a featured artist with the group, playing Polish, German and other polkas at the Band's numerous shows.
Jerry returned to the United States in February 1967, and was again a member of Lush's Musical Stars. In addition to working as the band's concertina player, he also served as Lush's booking agent and handled all the band's business arrangements.
After nearly a decade as Marion Lush's drummer and concertina player, Jerry became a member of the award-winning Eddie Blazonczyk's Versatones, joining that group in 1972. Like Lush, Blazonczyk's achievements and accomplishments were astonishing.
For the next 15-plus years, Jerry played concertina with the Versatones, performing as a full-time polka musician forty-two to forty-four weeks of the year. During this period, both the Versatonesand Jerry chalked up countless awards, citations and other commendations for their sound and their dedication to the preservation and continuance of polka music.
Jerry retired from the Versatones in 1987, and moved to Cheektowaga, N.Y., a suburb of yet another polka capital --Buffalo, New York. The move marked the first time in twenty-five years that his livelihood was not that of a full-time musician. ...But not for long.
Employed by the Town of Cheektowaga, the administration of the Town's Annual Polish American Arts Festival soon learned of Jerry's move, and asked him to be a member of the committee. The Polish American Arts Festival Committee sought Jerry's years of experience to make this already-highly successful event even more so. He also joined the Bellares, one of Buffalo's most respected polka groups, led by area polka legend "Big Steve" Krzeminski.
Jerry has recorded over 600 songs on nearly 60 albums in his career, and has among his numerous citations two Grammy awards. He has performed across the continental United States and Hawaii, Canada, Poland, Germany, and Austria.
Jerry's years of experience have allowed him to continue as a fill-in member of such groups as Lenny Gomulka's Chicago Push, The Ampol Aires, Li'l Wally, Jackie Libera's Classics, the Dyna-Tones and countless others. He was also a regular member of many ad hoc groups, such as Chet Kowalkowski's Polish Carolers, and the Polish American Journal'sPolish Village Musicians.
In 1995, when Big Steve Krzeminski decided to retire, Jerry again proved his love for polka music by forming his own band, Jerry Darlak & The Touch. The band has quickly become one of Buffalo's most popular orchestras, as it concentrates on providing the solid "pod nogi" type of polka music that Jerry was raised on.
....Mark Kohan ----Buffalo, New York
1998
*The Touch received the "Favorite Band Award" at the
POLKAS ON THE HILLS FESTIVAL in Fairpoint, Ohio.
•"C'mon Back Polka" voted #1 song on Matt's Polka Page on the internet.
•Jerry Darlak elected into the IPA Polka Hall of Fame in Chicago, Ill.
Among the highlights of Jerry's career are the two Grammys that he won for "Polish Celebration" and "My Mary Lou,"-- both with Eddie Blozonczyk's Versatones and also Jerry's induction into the IPA Polka Hall of Fame in 1998.
Jerry (the concertina artist) sings traditional Polish--Chicago Style polkas --that everyone of all ages enjoys. His band --The Buffalo Touch --has released 5 album CD's (Touch This ,For Our Friends, Polkas For Christmas, Let The Good Times Roll) and currently releasing their 5th album. The popularity of the Touch has taken his band to perform all over the country from California to Florida and from
Las Vegas, Nevada to the Mardi Gras in Louisiana. Looking at Jerry's busy schedule makes you realize that everyone is "touched" by his music.