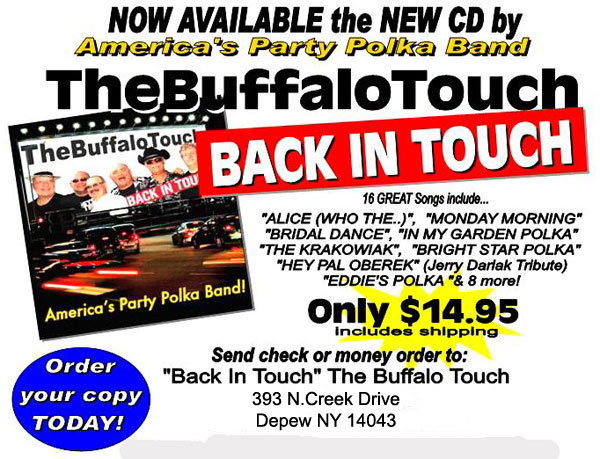 America's Party Polka Band New CD "BACK IN TOUCH"!
NOW AVAILABLE!

After a 4 year hiatus from the recording studio, the 3 time Grammy nominated Polka band The Buffalo Touch, has completed the finishing "touches" on their latest CD "Back In Touch"
This Cd features the band's last original member Ken Machelski, back after a brief absence in 2011 on trumpet & vocals, along with Polka Hall Of Famer, Mike Nowakowski accordion & vocals, Rick Pijanowski drums & vocals, and Tadj bass & vocals. In 2009, the band added Gary Krupski on horns and vocals, 2010 Robin Pegg on accordion & vocals.
Here's what you'll find.
Alice - Tadj on Vocal, Gary adds a "TOUCH" of "Boots Randolph" Sax Licks
Bright Star Polka - Ken vocal, a local favorite...
I Can't Reach That Far - An original composition sung by its creator Mike
Krakowiak Polka - instrumental featuring Gary Krew on reeds
Bridal Dance Polka - Rick Vocal.
In My Garden Polka - Gary vocal
Waltz Medley - Ken Vocal "Tribute to our pal Jerry" Tom W. on Concertina
Girls From Chicago Polka - Ken vocal
My Pigeons Polka - Gary vocal.. (A "Touch" of New Brass)
Our Pal Oberek -instrumentally featuring the Buffalo Touch
Monday Morning Polka - Ken vocal
Nasza Pani Polka--Mike Vocal an Accordion featured Polka .
Karolinka Polka - Rick vocal
Eddie's Polka - instrumental featuring the Touch
I'll Bet You My Heart - special guest Al Krew Vocal
When We Met Polka - Robin Pegg vocal
Our last Band meeting with Jerry, was an emotional experience for us all. JD was upbeat, the conversation was personal, however his desire to leave a lasting legacy was noted….With that we've kept the band working, maintaining a "Party" mood. Entertaining the people with good music, a good beat, and a good laugh! As JD would say "Da Tanca". We've re-touched the style somewhat having two accordions, for this CD, But having a concertina along with an accordion is never far from out thoughts, Ken bought Jerry's White Star Concertina, and has been working on some tunes.. We are very proud of this CD and look forward to producing another "LIVE CD/DVD real soon, we look forward to hearing from our fans throughout the Country and making new ones. "Keeping Polka Music Alive"….The BuffaloTouch